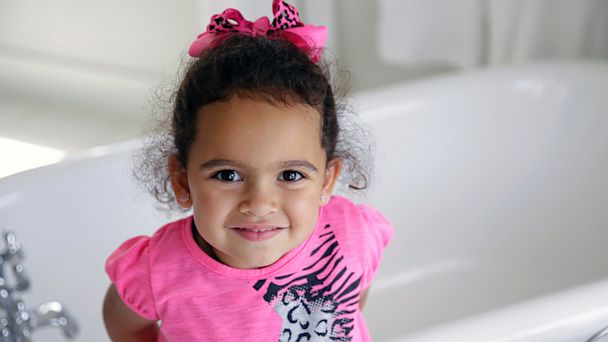 Baby Veronica turns 4 today
The little girl at the heart of the
Baby Veronica
case turns four today. Happy birthday little girl!
As an adoptive foster mom, I pretty much across the board believe that kids should live with the person who will best take care of them. Frankly I think unfit parents have too many rights to get back their kids after they've been removed from their care, which causes those kids more harm than good. I could never be a foster parent. Never. God bless the people who can foster a child for any length of time and then give those kids back to the bio parents. Those people are truly needed and I admire them for their courage. But I chose the route of foster adoption for a reason. I wanted to be a permanent mom; not a temporary one.
The case of Baby Veronica is different though. This isn't a case where the child was removed from parental care by the state because of abuse or neglect. In this instance, the birth mother put her daughter up for adoption apparently unbeknownst to the father. The father claims he didn't know she was giving their daughter up for adoption. True, the facts are a bit murky here. The mother claims that she not only notified him but that he signed documents asserting both his knowledge and acceptance of the adoption. The father claims he thought he was signing custody papers for his daughter so she could obtain military benefits while he was deployed to Iraq as an active service member. I have no idea what the truth is here.
When the dad, Dusten Brown, found out that the mom had put Veronica up for adoption, he immediately went to court to regain parental rights. He was still deployed to Iraq and the little girl was 4 months old at the time. Since he's part Cherokee, Dusten Brown invoked the Indian Child Welfare Act of 1978 (ICWA) to gain custody of his daughter. It worked and at the age of 27 months, Veronica was handed over to a father she had never previously met.
Fast forward to today, Veronica's fourth birthday. The case continues to go back and forth through the courts; meanwhile the child continues to live with and bond with her biological dad, step-mom, half-siblings and extended family. As I understand it, the birth mom is entirely out of the scenario.
So now what? Does Veronica stay with her biological family or does she go back to the Capobiancos? The laws are murky and contradictory here: The Capobiancos live in South Carolina and Dusten Brown lives in Oklahoma so there isn't one single state law to follow. Meanwhile, because Dusten Brown is part Cherokee, the Federal government becomes party to the case due to the ICWA. One ruling overrides another and the roller coaster continues. These people must all be spending an absolute fortune on legal fees.
It's unfortunate that we have to try and legislate this child's custodianship because what we really should be doing at this point is simply acting in the child's best interest. Is it in her best interest to stay with Dusten Brown or would she have a better life if she were to go back to the Capobiancos?
I personally believe that it's best for Veronica to stay with the Brown family at this point. She has bonded with her family and it's a loving, stable home. Ripping a child from her family is very traumatizing and could, at worst, result in a case of Reactive Attachment Disorder (RAD) and Post Traumatic Stress Disorder (PTSD). Do the Capobiancos really want to traumatize Veronica like that just so they could become parents?
Also, how do the Capobiancos plan to explain to Veronica why they took her away from her loving, biological family; family she looks like and acts like, to live half a country away with people she doesn't have any biological or cultural connection to? She doesn't look like the Capobiancos and like other adopted children, will feel like an outsider much of the time. Meanwhile, the bio family loves her, looks like her and shares the same culture. The Capobiancos could become absolute villains in the eyes of the child they claim they love. I cannot believe that this is what they want.
I feel for the Capobiancos. They really, really wanted to be parents and fell in love with Veronica the moment they met her. That's got to be heart wrenching. However, as parents, sometimes we have to do what's right for the children we love, no matter how difficult or painful that action is. Ripping Veronica away from her loving, stable family environment at this point would really do more harm than good. So in this case, I truly believe the Capobiancos should stop fighting for custody of Baby Veronica (who is actually no longer a baby) and move on with their lives.
One other note: there are over 100,000 foster kids awaiting a permanent home today. If the Capobiancos want to be parents as much as they say they want to do, why not pursue foster adoption and give a needy kid a loving, stable home? That would be the win-win here for all involved.